OPENING EXHIBIT. CHANGE AND CONTINUITY, KEEPING CULTURE ALIVE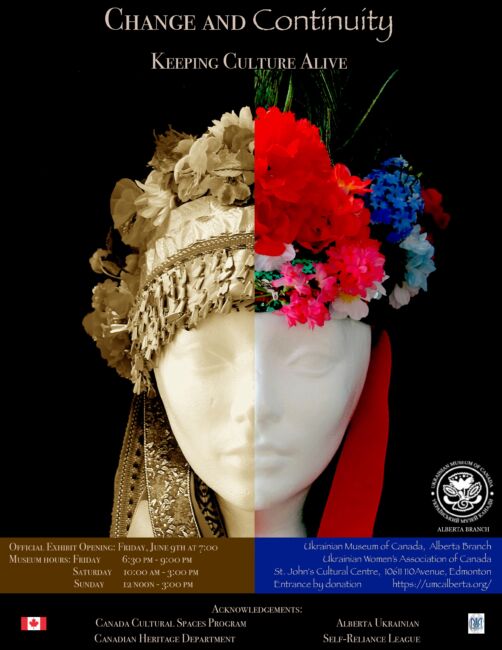 On June 9, the Ukrainian Museum of Canada, Alberta Branch is reopening with a new exhibition after two years of being closed. The exhibition will feature embroidery, weavings, woodwork, ceramics, religious items and artworks that link the past with the present. The displayed works will also illustrate traditional stylistic differences in different regions and their adaptation in modern times, showcasing changes in Ukrainian material culture through the eras. Some of the designs belong to the 18th and 19th centuries but still have connections with our time. Art and photographs of Ukrainian historical events provide context to the artifacts on display. As the traditional finds its place in our lives, that culture becomes a living part of our present life.
______________________________________________________________
9 червня Український музей Канади, філія Альберта, відкривається з новою виставкою після дворічної перерви. На виставці будуть представлені вишивка, ткацтво, вироби з дерева, кераміка, релігійні предмети та мистецькі твори, що поєднують минуле з сьогоденням. Представлені роботи також ілюструватимуть традиційні стилістичні відмінності різних регіонів та їхню адаптацію в сучасності, демонструючи зміни в українській матеріальній культурі впродовж епох. Деякі з робіт 18-19 століть все ще мають зв'язок із сучасністю. Мистецтво та фотографії українських історичних подій на виставці надають контекст представленим артефактам. Оскільки традиційне знаходить своє місце в нашому житті, ця культура стає живою частиною нашого сьогодення.